By Jack Gilroy
Our Peace Action/Veterans for Peace team has, like most progressive thinkers and actors, focused on telling the truth, especially as it relates to militarism in American culture and history. We know that American leaders have often lied, particularly regarding war making. Yet, the lies of Donald Trump as President of the United States 2016-2020 were unlike any in American history. In fact, the Washington Post created a Pinocchio Index to keep track of his untruths. It recorded 50 or more false or misleading statements each day or about 30,000 over his four years as President of the U.S.
The American public deserves better. To that end we decided to highlight trustworthy Americans by sponsoring an exhibition of Americans Who Tell the Truth by Robert Shetterly, an artist/activist from the state of Maine.
During the first two weeks of October 2021, BCPA/VFP will display in the Broome County Library (with text), 16 out of Mr. Shetterly's 250 oil portraits. We then move the exhibition for the second two weeks of October to Maine-Endwell High School. For the entire month of November, the artwork will be on the walls of the Human Ecology Department at Cornell University.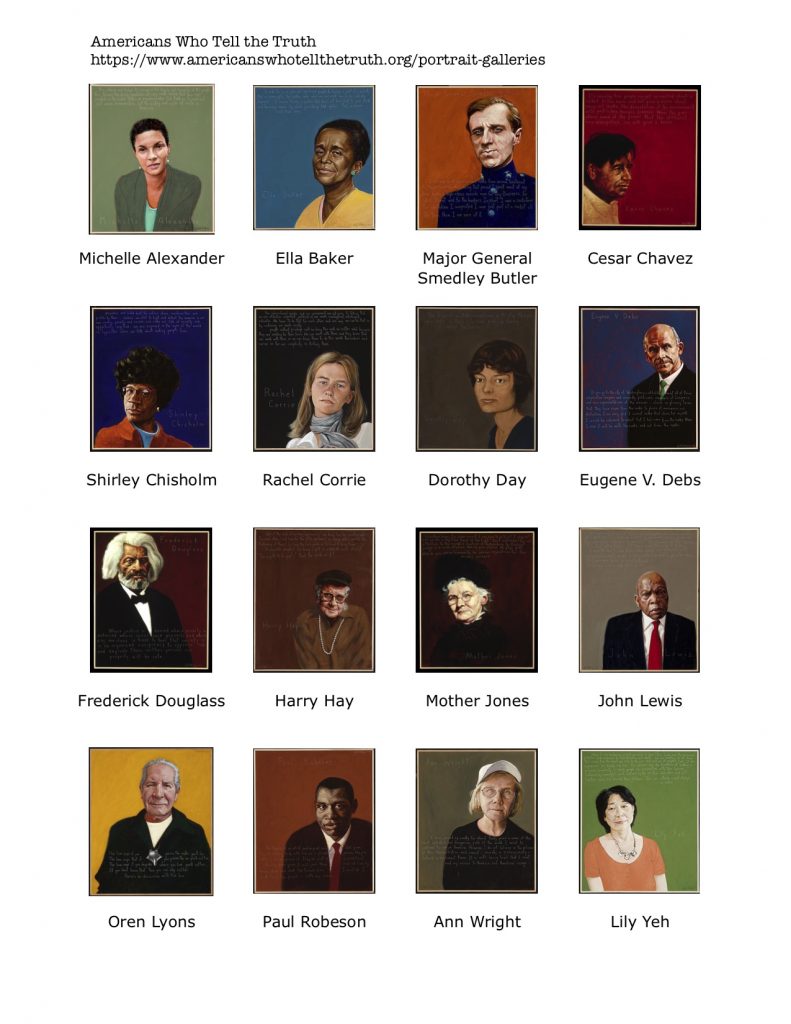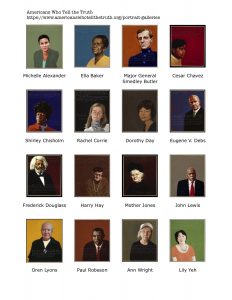 Featured portraits include:
Michelle Alexander
Ella Baker
Smedley Butler
Cesar Chavez
Shirley Chisholm
Rachel Corrie
Dorothy Day
Eugene Debs
Frederick Douglas
Harry Hay
Mother Jones
John Lewis
Oren Lyons
Paul Robeson
Ann Wright
Lily Yeh
To help support this project, go to bcpeaceaction.org
To check out all of the truth-teller portraits, go to AmericansWhoTelltheTruth.org
From the June 2021 BCPA Update newsletter, download the PDF