By Jack Gilroy
It's April 2020, and the planet is in the midst of a pandemic. Our best epidemiologists still can't predict how many more than the current number of over 40,000 will die in America from Covid – 19. We do know that the United States government was not prepared. One indicator is that, worldwide, the greatest toll of infections and deaths are here in the United States. Another is, as reported by New York Magazine on April 3rd, that President Trump had replaced the national pandemic response team with his son-in-law, Jared Kushner. (Mr. Kushner is not a medical doctor nor possesses relevant scientific expertise in these matters.) Furthermore, Trump has denied the fact of the pandemic being real, until it was too obvious, even for him, to deny that truth. Currently, his team is using daily briefings to mask their incompetence as the disease spreads from cities to rural areas nationwide.
Following the fall of the Iron Curtain in 1989, senior students at Maine-Endwell High School organized a Town Hall meeting to discuss how to use the Peace Dividend expected from the end of the Cold War. Their research found documentation showing that the Pentagon and the major arms producers were opposed to the economic conversion of military expenditures to domestic, social needs. On the evening of the meeting only Link Aviation sent a delegate to discuss the issue. In any case, the event got media traction. The following day the local Press and Sun Bulletin ran an editorial – "The Children Shall Lead Them". Even national media noticed. The Washington Post shortly afterwards ran a feature article on their editorial page praising the M-E students for their call for constructive economic conversion of destructive military appropriations.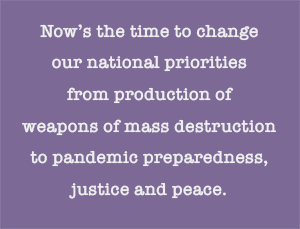 Of course, the defense contractors and the Pentagon had their way. With weapons makers in every one of the 435 congressional districts and millions of dollars to spend on lobbyists to counsel our representatives, peace activists were outgunned. Plus, those weapons' plants created jobs, put bread and butter on the tables of American workers. But at what cost to our citizen's health and our national identity does this short-term mindset perpetuate?
For many decades, peace and justice activists have been calling for a major reduction in militarism. Preparing for war and going to war should not be our primary national focus –but it is. Now is the time to embrace a silver lining in the disaster created by the corona virus and exacerbated by our near-sighted, self-serving political leaders. Now's the time to change our national priorities. It's time to urge our friends, family, neighbors, community members as well as political types of every persuasion to reconsider where our national government spends our tax dollars. We need to shift from leading the world in production of weapons of mass destruction to a nation that leads the world in pandemic preparedness, justice and peace.
We have no shortage of guns, bombs, missiles, fighter planes, aircraft carriers or military bases for tactical war needs, even as they become increasingly obsolete in the Digital Age. We have plenty of nuclear weapons to facilitate omnicide in a strategic war. Yet, we don't have enough spare hospital bed capacity, ventilators or personal protective equipment for medical staff in our hospitals and nursing homes, when our most formidable enemy, going forward, is viral and/or bacterial. We can act to solve this dilemma. The time is ripe for change.
In our most recent meetings of Peace Action and Veterans for Peace, members decided to seize the moment and to do all we can to influence others to move away from our addiction to militarism. We want to encourage the design of systems and making of products that protect life, rather than destroy it. We also felt that we should redouble our efforts in lobbying our national representatives to resist the hammer lock on our culture by the Pentagon and the arms making corporations, especially as it pertains to the two giants right here in the Southern Tier – Lockheed Martin and B.A.E.
We hope in the near future to have a meeting with Senators Gillibrand and Schumer as well as Congressman Brindisi to discuss these concerns. Any person reading this who would like to participate in those meetings, please write vfp@bcpeaceaction.org or call Jack at 607.239.9605.