War Merchants Exposure Day – September 9, 2022
On September 9th, Peace Groups gathered at BAE Systems in Endicott, NY and Lockheed Martin in Owego, NY to protest the military complex and promote peace-making development products. Jack Gilroy of Veterans for Peace tried to deliver letters to the CEO's of both companies and was stopped by security. Speeches, songs, flute music and signs promoting peace and no more war. End billions being spent on military complex. Spend billions instead on the needs of the Citizens of US, clean water, new infrastructure, health care, etc.
Video of the event by Vera Scroggins

---
Coverage on News Channel 34
Veterans for Peace holds protests at BAE and Lockheed Martin by Roy Santa Croce
---
Exposing the Merchants of Death
by Jack Gilroy
Two days before 9/11, the money-maker day for the arms industry, a coalition of peace and justice activists from upstate New York communities (Endicott, Binghamton, Rochester, Syracuse, Corning, Hornell and Albany) came together at BAE to expose the merchant of death and call upon the workers to demand economic conversion from designing and manufacturing systems of destruction and death to designing and making life supporting systems. We had banners depicting BAE as a worldwide terrorist organization.
Read the full article at CovertAction Magazine
---
Original Invitation to Join the Event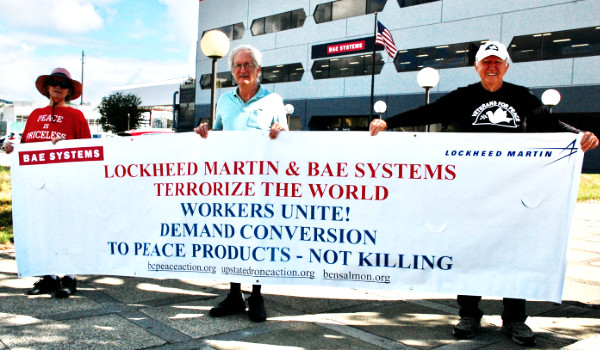 War Merchants Exposure Day:
Transform Arms to Life-Giving Systems!
September 9th at 11 AM
Join Broome County Veterans for Peace and other peace groups to expose Lockheed Martin & BAE Systems
Banners, signs, & songs will support our call for
nationwide nonviolent action decrying these corporations' war profiteering.
Weapons System Workers Demand Life-improving Jobs.
There is No Dignity in War Work!
For groups in other areas of the country who wish to join in this effort:
Peace and Justice activists find your local merchant of death here
https://en.wikipedia.org/wiki/List_of_United_States_defense_contractors
Be at your local arms merchant with baanners, signs, statements, music and song (e.g. Vine and Fig Tree etc) printed out for group singing.
Focus: Transform from systems and products of destruction to real earth and human needs
Contact media–best time for evening news is a morning event on September 9th War Merchants Exposure Day. More information, including a letter to present to your local war merchant CEO:
https://www.veteransforpeace.org/take-action/war-industry-resisters-network/events
Sponsored by Veterans for Peace, World Beyond War, Code Pink, Peace Action, Pax Christi USA, Upstate Drone Action, Catholic Worker, Ban Killer Drones.
Download flyer to customize for your event